Comprehensive Dentistry for Waco's Youngest Patients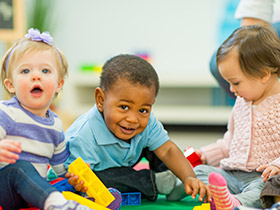 At Waco Kids Dental, Drs. Aaron Blackwelder, Vernesha Lockhart, Tjel Olson, Alex Piedra and Colleen Segall offer a wide range of the most important pediatric dental services. With a special focus on preventive care, orthodontics, frenectomy procedures, and sedation, we're confident we can meet the needs of all our young patients.
For optimal oral health, we recommend scheduling regular checkups and cleanings with our office every six months. With frequent appointments, we can monitor your little one's needs and recommend additional care if necessary.
Our pediatric dental services include:
Extractions
Root canals
Crowns
Space maintainers
Orthodontic assessments
Hospital dentistry
Our team treats kids like kids and is highly skilled in caring for patients with special needs. What's more, Drs. Aaron Blackwelder and Dr. Tjel Olson speak fluent Spanish for any child or parent who doesn't speak English as their first language.
Your Child's First Visit
We have two goals for your child's first visit: to get to know your little one's smile and to make him/her feel welcome and comfortable. When your family first comes through our door, you'll be greeted warmly by our front office team. Then, when it's time for your child's appointment to start, we'll introduce ourselves and start getting to know their smile. The more we know about your child's dental needs, the more personalized care we can offer.
Are you ready to schedule an appointment for your son or daughter? Call Waco dental office today reserve a visit. We're happy to provide pediatric dentistry to patients from:
Bellmeade
Clifton
Corsicana
Elm Mott
Fairfield
Gatesville
Groesbeck
Hewitt
Hillsboro
Lacy-Lake View
Lorena
Marlin
Mart
McGregor
Mexia
Robinson
Waco
West
Whitney
Woodway