More Precise Care with Digital X-Rays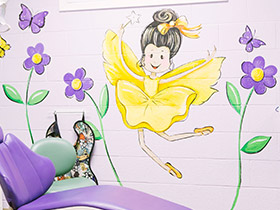 At Waco Kids Dental, we're dedicated to offering exceptional dentistry to our young patients. To provide your little one with the most comprehensive and personalized care possible, we've invested in a new way of taking X-rays. With digital radiography, we can clearly identify the external and internal structures of your child's mouth. The clarity of these images allows us to more accurately diagnose your little one's needs so we can create a fully customized treatment plan.
The Difference between Traditional and Digital Radiography
One of the biggest differences between traditional and digital radiography is the clarity of the images. But that's not all that separates them. Traditional radiography exposes patients to a significant amount of radiation. These images then have to be developed with harmful chemicals. And last but not least, they have to be stored somewhere in case we need to refer to them later on.
Compare this with the range of benefits that come with digital radiography. Digital X-rays are taken with a small sensor that emits up to 90% less radiation, making it a much safer and more comfortable option for children and adults alike. There's also nothing to develop, so we don't have to expose our team to potentially harmful chemicals. Instead, we can share the results almost immediately on an easy-to-see screen and even store your child's X-rays digitally instead of having to keep a physical copy on hand somewhere. All of this makes the process safer, more comfortable, and more convenient for you and your little one.
Personalized Care for Children in and around Waco
With the images we're able to collect, we can learn more about your child's needs and provide him or her with more personalized care. At the end of your child's appointment, we'll share the results of his or her X-rays with you and talk with you about the available treatment options. We believe that parents and children should have a full understanding of what we're recommending. If you have any questions at any point, don't hesitate to let us know.
Do you have questions or concerns about digital radiography? Call us today. We would be happy to address them in addition to scheduling an appointment for your son or daughter. Waco Kids Dental serves patients from Waco, Hewitt, Lorena, Woodway, McGregor, and all surrounding areas.