Comfortable Care for Young Patients with Sedation Dentistry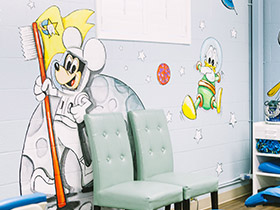 Does your child experience anxiety before or during dental appointments? A little anxiety is normal for young patients, but some experience it more sharply than others, resulting in very real unease and fear. In cases like this, our Waco office can provide care with sedation dentistry. Drs. Aaron Blackwelder, Vernesha Lockhart, Tjel Olson, Alex Piedra and Colleen Segall offer three forms of sedation to help patients overcome negative feelings, regardless of how strong those feelings are. Our sedation options include:
Nitrous Oxide
Nitrous oxide is also known by another name—laughing gas. It's breathed in through a special mask and goes to work quickly, creating a bubbly sense of peace and relaxation. Your child will wear this mask from the beginning of the procedure to the very end, ensuring that he or she has a comfortable, anxiety-free appointment. Once we remove the mask, the effects of the nitrous oxide will begin to wear away, leaving behind little to no memory of what happened during the appointment.
Oral Conscious
Conscious sedation uses a safe and commonly prescribed medication to give patients a more comfortable and relaxed appointment. Dr. Aaron Blackwelder, Dr. Vernesha Lockhart, Dr. Tjel Olson, Dr. Alex Piedra and Colleen Segall will use a small amount of oral medicine to perform your child's in-office procedure. Because the effects of oral sedation take longer to wear off than the effects of nitrous oxide, you should limit your child's activity immediately following his or her appointment. Normal activities can be resumed by the next day, if not before.
IV Sedation
IV sedation is an extremely useful option for patients with moderate to severe anxiety. It's also useful in cases where a patient will be undergoing a lengthy procedure or multiple procedures in a single visit. Our Waco team will precisely control your child's sedation level from beginning to end, ensuring that he or she is comfortable the entire time. As with oral conscious sedation, it takes time for the effects of IV sedation to wear off. Within a few hours, the effects should have worn off completely, but your little one should wait until the next day to resume normal activity.
Do you have questions about which option might be right for your son or daughter? Call our Waco office with your questions or to schedule an appointment. We're glad to offer sedation dentistry to patients from Waco, Hewitt, Lorena, Woodway, McGregor, and all nearby communities.