Frenectomy Procedure from Waco Kids Dental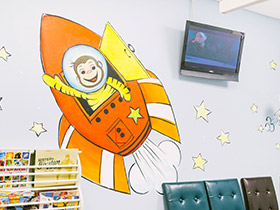 A frenectomy is a special procedure that involves the removal of a frenum, which is a special muscular attachment in the mouth. Though our mouths naturally have two—one connecting the tongue with the floor of the mouth and another connecting your upper lip to your gums—there are times when the frenum can interfere with normal functionality and even cause discomfort. When this happens, a frenectomy is performed to remove the muscular attachment.
Because this is an advanced procedure, not every dental practice will offer it. But at Waco Kids Dental, our team can provide the advanced help your little one needs to enjoy better health and functionality.
Lingual Frenectomy
During a lingual frenectomy, our Waco team will make changes to the lingual frenum, which connects the tongue with the floor of the mouth. When the lingual frenum runs all the way to the tip of the patient's tongue, it can limit a child's ability to eat or speak normally. This kind of problem is not uncommon in young children and can easily be remedied with a lingual frenectomy.
During your child's procedure, the tongue will be numbed with an anesthetic and a special incision will be made to free the tongue. Once we've made an incision, the area will be sewn up and allowed to heal. The result, afterward, will be improved function for your son or daughter.
Maxillary Labial Frenectomy
The maxillary labial frenum is a thin band of muscle that connects the upper lip to the gums and is situated just above the front two upper teeth. When this frenum is too prominent, it can result in a noticeable gap between these two teeth. Immediate treatment isn't necessary, though, unless the frenum is also causing discomfort.
If you've noticed this in your child, we recommend delaying action until your child's top two permanent teeth have fully emerged; it's not unusual for a patient's permanent teeth to naturally close this gap when they come in, thus making a frenectomy unnecessary. If a maxillary labial frenectomy is necessary, it should only be performed after the gap between the front two teeth has been corrected with braces. If one is performed before the gap has been corrected, the resulting scar tissue can limit your ability to close the gap later on.
Is your child's lingual or maxillary labial frenum causing discomfort or limiting his or her ability to eat, speak, or swallow? Call us today to schedule a consultation appointment with Waco Kids Dental. We offer advanced care to young patients from Waco, Hewitt, Lorena, Woodway, McGregor, and beyond.